Frequently asked questions (FAQ)
Frequently asked questions (FAQ)
How can I login, subscribe or navigate around the courses?
Please go to the Tutorials pages where you will find clear guides on how to login, subscribe or navigate around our courses.
----------------------------------------------------

How can I have my purchase delivered to a different address than my paypal default address?

The quickest and easiest way of telling us to post to another address rather than your default address is to do the following:
In the paypal window click on Add special instructions to the seller.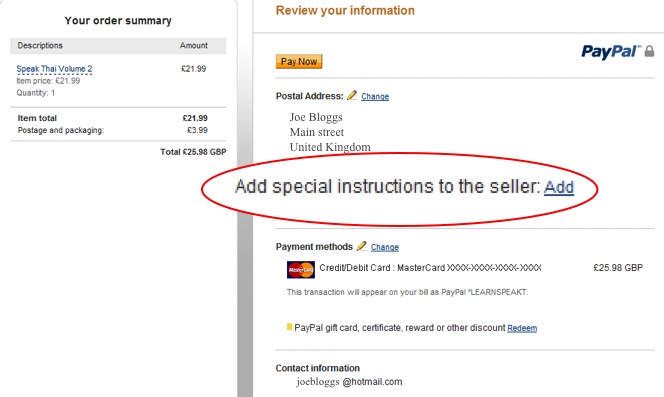 ----------------------------------------------------
I can't play sounds, what's the problem?
There could be a numbers of reasons for you not hearing sound. Firstly, check that your speakers are switched on and working, and that the speaker volume is not muted.

If your speakers are working correctly then the most common problems that result in hearing audio difficulties are:
either that javascript is turned off

Flash isn't on


or if you have no Flash you may not be using a modern HTML5 browser
To play sounds on our site you must have either Flash enabled or an HTML5 compatible browser. Most up to date browsers have this, so if you are experiencing problems we suggest you download the latest version of your browser. Simply enter your the browser name of your choice in the search box, e.g., 'Firefox download' to find a site offering the browser, and then follow the instructions for installing. These days it is a simple and straightforward process.
If you know what flash system you are uisng, the link below will confirm whether your sound problem is a flash problem or not. Please click here.
----------------------------------------------------
Why are the slideshows not working in Internet Explorer 9 with Windows 7?
You need to click on the 'Compatibility' icon in the url bar to get them working. Or use a different browser like Firefox.

The Compatibility View button
----------------------------------------------------
Should I buy the Online or book + DVD course?
Both the online course and the book with DVD courses are excellent courses that cover all the key grammar and everyday words a learner needs to know to speak Thai effectively. Should you buy the book with DVD courses or the Online courses? The key question for you is whether you want to learn Thai with a physical book and view the audio separately on the DVD or want to learn Thai online where you view the lesson from a screen and where the audio and associated slideshow is on the page you are reading. (The online courses have the additional advantage of clickable text within each lesson page and having audio flash card and matching word games for all words. This helps make learning Thai quicker and more effective). So what format you buy is really down to your preference in learning material source.
----------------------------------------------------