Easy Thai for Tourists (e-Book)
Easy Thai for Tourists (e-Book)
Easy Thai for Tourists - a new kind of book
Click here to buy on Amazon:uk
Click here to buy on Amazon:com
If you just want to learn a few useful words and phrases in Thai for your next holiday in Thailand this book is for you. Richard Charles gives you the absolute bare essential minimum words and phrases you need to get by with when holidaying in Thailand. From saying hello to asking where the toilets are, all the key words and phrases are here. You get this e-book book plus free access to the online video so that you learn the correct Thai pronunciation and can be understood. It's an easy, fun and effective way to start learning Thai.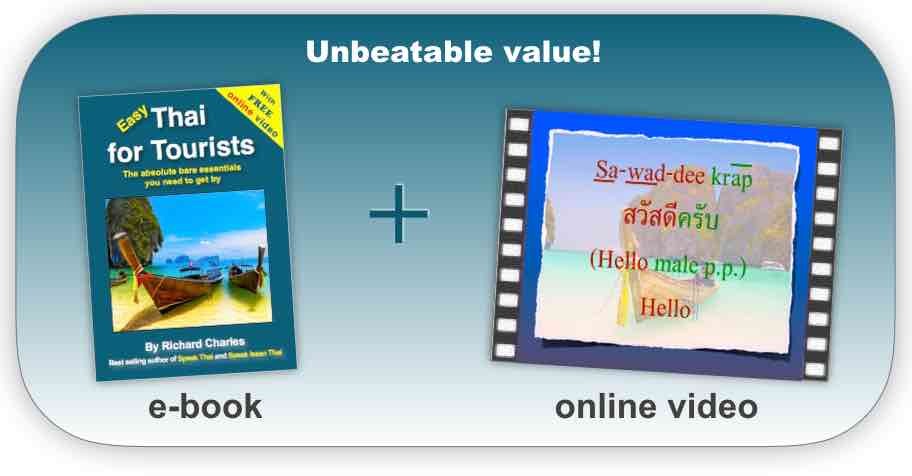 Learn just enough to get by
Unlike a Thai phrase book, which contains thousands of words and phrases (which ultimately rarely get looked at, learnt, or used) the words in Easy Thai for Tourists have been designed to give tourists intending to come to Thailand on holiday the absolute bare essential vocabulary needed to get by. It contains easily learnt key words and phrases that you will use and that with a little effort you can remember without having to delve into the book all the time when you are in Thailand wanting to say something in Thai. This will allow you to have good and spontaneous interactions with Thai people in a wide range of everyday situations.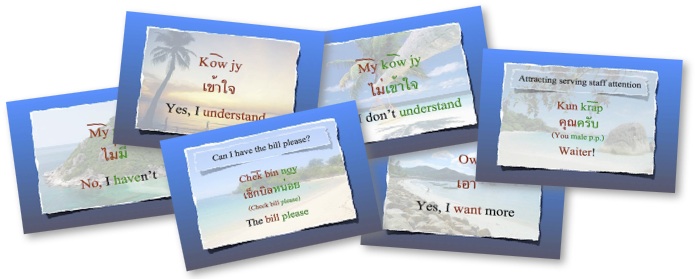 The best way to start learning Thai
Easy Thai for Tourists teaches relevant, practical Thai you will use. In the process of learning the 26 key words and phrases featured you will learn some fundamental aspects of grammar and a range of useful vocabulary in excess of 100 words. All the Thai words are written with a clear easy to read phonetic transliteration and tone graphic system that accurately reflects how to say each word. The online video 'see, hear, speak' system teaches the correct pronunciation of these Thai words. It's a most effective way to learn some basic Thai for your next holiday in Thailand.
MINIMIZES the amount of Thai you have to learn; MAXIMIZES the usefulness of what you've learnt
Key words and phrases: How to express politeness when talking, Saying hello, Saying Goodbye, How are you?, What is your name?, See you again, Yes / no, Thank you, That's fine, you're welcome, I'm sorry / excuse me, I'm looking for …, Do you have …?, How much is this?, That's too expensive, Can you reduce the price?, Can you go to …?, Stop, Do you have a room?, Can I see the menu?,Where is the toilet?, Waiter! – attracting serving staff attention, Can I have the bill please?, Keep the change, I don't understand, Like, Want, Are you having fun?
Your opportunity to really get the most of your Thai holiday experience
So don't miss out on this superb opportunity to learn the absolute bare essential Thai you need to get by. Learning Thai has never been so fast and easy! Start anticipating the fun and enjoyment you are going to have on your Thai holiday now.
Unbeatable value: Only £2.99!
Click here to buy on Amazon:uk
Click here to buy on Amazon:com